What Can You Do with an Electrical Engineering Degree?
Posted by

Date

January 23, 2023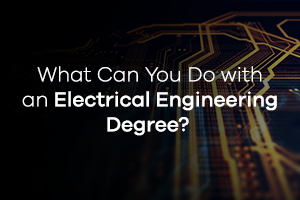 A degree in electrical engineering can lead to a wide range of interesting work opportunities. It is essential to understand what degree and professional possibilities are available, as well as the requirements for each one because your job prospects and opportunities are dependent on the degree you obtain.  
I will tell you about the different job positions with a degree in this field. However, first, you must know what electrical engineering is.  
What is Electrical Engineering?
Electrical engineering constitutes the most interesting and diverse branch of engineering. It involves the study of electronics, electricity, and electromagnetism. Furthermore, it is concerned with the design, construction, and assembly of electrical devices.  
What will be Your Job as an Electrical Engineer?
The type of work you do will be determined by the industry you work in. The vast majority of businesses hire newly graduated electrical engineers in an attempt to enhance their knowledge and skills.  
Moreover, you can expect to be working alongside engineers from various disciplines in these firms, but your responsibility will be to impart electrical engineering knowledge. However, some organizations may train electrical engineering graduates to become more "generalist" engineers.  
So, you need to know about the different industries and what they require to excel in your desired field.  
What Jobs Can You Get with an Electrical Engineering Degree?
Electrical engineering graduates have a wide range of career options in engineering fields. Here are some options for what you could do in each. 
1. Aerospace Industry
With a BS electrical engineering, you can get a job as an electrical engineer in the aerospace industry. You will be working with cutting-edge technologies, developing or improving power-dense electrical equipment, and autonomous systems. In addition, there is a growing emphasis on new technologies for hybrid/electric propulsion for aerospace systems. 
2. Automotive Industry
When working in the automotive industry, electrical engineers must be able to work on a wide range of components, including: 
Engines and powertrains

 

Interior and exterior lighting

 

Air conditioning

 

Safety systems

 

Seating controls (heating, cooling, and movement)

 

Start/stop technology

 

Braking systems

 

Infotainment systems

 
In addition, it also involves the creation of autonomous, connected, and electrified (ACE) vehicles, but it depends on your skill set. 
3. Built Environment Industry
An electrical engineering degree will allow you to apply your expertise in the built environment industry. Your projects will include everything from airports, universities, and train stations to hospitals, offices, and shopping centers. They are in charge of creating a variety of systems, including lighting, emergency power, communications, fire alarms, security, and CCTV. 
4. Defense Industry
Electrical engineers in the defence industry are involved in electrical power and network architecture or the optimization of hardware and software design concepts. You will be developing advanced design processes. Also, you will evaluate complex products to make sure the equipment is suitable for air, sea, or land operating environments. 
Your activities will include: 
Equipment design

 

Evaluation of equipment behavior

 

Fault diagnostics

 

Evaluation of new technologies

 

Simulation and modelling

 

Data analysis

 
5. Electronics Industry
As an electrical engineer, you can work in a variety of positions, including: 
Design

 

Layout

 

Manufacturing

 

Packaging

 

Testing

 

Field application engineering

 
You will work with electronic equipment that uses electricity as a power source, such as semiconductors, integrated circuits, capacitors, resistors, and other parts. 
6. Fast-Moving Consumer Goods Industry
The majority of positions in the quickly evolving consumer products sector are in either manufacturing or supply network operations/logistics. As a general manufacturing or logistics engineer, your task is typically a combination of various engineering disciplines rather than being separated into categories like mechanical, electrical, or chemical. 
7. Marine Industry
If you have earned a BS electrical engineering, then you can pursue a career in the marine industry. You will either monitor and manage vessels and machinery or design and build them. Electrical engineers play an important role in the generation and distribution of energy.  
8. Materials and Metals Industry
You will work on innovative technologies including electrically powered fans, HVAC (heating, ventilation, and air conditioning), and UPS (uninterruptible power supply). Your various tasks could involve: 
Fault detection

 

Modelling

 

Simulation

 

Data analysis
9. Pharmaceutical Industry
You will complete a variety of projects, from high-voltage operations and hazardous region inspections to power management and renewable energy production. Additionally, you will offer the site's general population technical electrical competence for new installations, current maintenance, and incoming equipment. 
10. Oil and Gas Industry
With a BS electrical engineering, you are eligible to work in the gas and oil sectors. You will design, develop, test, maintain, and enhance electrical systems and components, such as generators, transformers, and electric motors.  
You will ensure these appliances satisfy the necessary standards of safety, dependability, and efficiency and can resist extreme circumstances such as depth, temperature, and pressure.  
MAJU for Electrical Engineering
Muhammad Ali Jinnah University offers bachelor's, master's, and a doctorate degrees in the field of electrical engineering. Secure your seat and pursue the career of your choice.