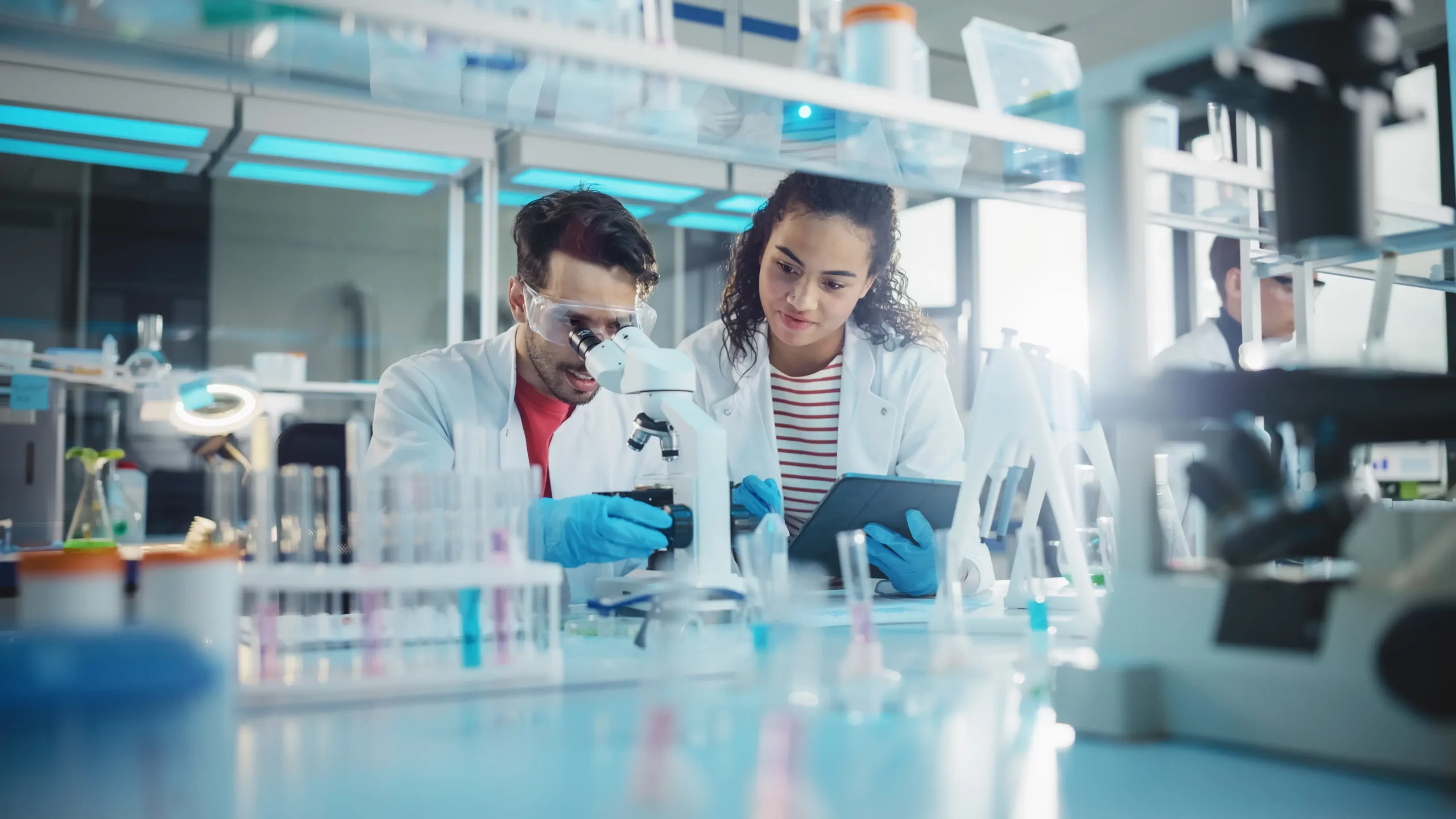 BS (Biotechnology)
BS Biotechnology is a modern 4-year degree program. In this course, you'll learn how biomolecular processes are manipulated to create products and technologies to deal with global health, environment, and food challenges. Furthermore, the course entails all the necessary elements that will help you master practical skills by directly learning from the industry experts.
Catering to the needs of the 21st century, the syllabus thoroughly covers all key aspects of biotechnology and biochemistry. Being a multidisciplinary degree, it creates a strong ground for scientific knowledge of microbiology, cell biology, environmental biotechnology, agriculture biotechnology, and nano biotechnology.
Likewise, you will learn the latest research methodologies from highly-experienced faculty and can test the same in a research project. To support your research efforts, the department is equipped with fully equipped labs.
Career Prospects
A degree in BS Biotechnology will unlock following career options for you:
Biomedical Engineer
Biochemist
Medical Scientist
Clinical Technician
Microbiologist
Process Development Scientist
Biomanufacturing Specialist
Business Development Manager
PROGRAM EDUCATIONAL OBJECTIVES (PEOs)
| | |
| --- | --- |
|   PEO-1 | The graduates will contribute competently in the industry related to biotechnology by applying requisite technical skills. |
|   PEO-2 | The graduates will demonstrate advancement in profession by enhancing their knowledge and skills in their relevant field. |
|   PEO-3 | The graduates will demonstrate commitment to ethical values and contribute positively towards the society. |
PROGRAM LEARNING OBJECTIVES (PLOs)
| | | |
| --- | --- | --- |
|   PLO-1 | Knowledge | An ability to apply fundamental and specialized knowledge of biotechnology to the solution of complex biotechnological problems. |
|   PLO-2 | Hypothesis Formulation | An ability to identify, formulate, research literature, analyze complex biotechnology problems, reaching substantiated conclusions towards formulation of hypothesis using fundamental principles of biotechnology. |
|   PLO-3 | Experiment/ Process Design | An ability to design experimental solutions to validate biotechnology Hypothesis and design process while maintaining biotechnology standards, cultural, societal, and environmental considerations. |
|   PLO-4 | Investigation | An ability to investigate complex issues in biotechnology in a methodical way including literature survey, and development of systems, analysis and interpretation of experimental data, and synthesis of information to derive valid conclusions. |
|   PLO-5 | Modern Tool Usage | An ability to select and apply appropriate techniques, resources, and modern tools, including prediction and modeling, to complex biotechnology activities, with an understanding of the limitations. |
|   PLO-6 | Impact Analysis | An ability to apply reasoning informed by contextual knowledge to assess societal, legal and cultural issues and the consequent responsibilities relevant to professional biotechnology practice and solution to complex biotechnology problems. |
|   PLO-7 | Management Skills | An ability to demonstrate management skills and apply biotechnology principles to one's own work, as a member and/or leader in a team, to manage projects in a multidisciplinary environment. |
|   PLO-8 | Team Work | An ability to work effectively, as an individual or in a team, on multifaceted and /or multidisciplinary settings. |
|   PLO-9 | Ethics | Apply ethical principles and commit to professional ethics and responsibilities and norms of biotechnology practice. |
|   PLO-10 | Communication | An ability to communicate effectively, orally as well as in writing, on complex biotechnology activities with the biotechnology community and with society at large, such as being able to comprehend and write effective reports and design documentation, make effective presentations, and give and receive clear instructions. |
|   PLO-11 | Lifelong Learning | An ability to recognize importance of, and pursue lifelong learning in the broader context of innovation and technological developments. |
ADMISSION REQUIREMENTS
Higher Secondary School Certificate or equivalent securing at least 50% marks in aggregate.
CUST Admission Test or HEC Approved Test.
DEGREE REQUIREMENTS
Each candidate for the BS Biotechnology degree is required to successfully earn 131 credit hours as per the following detail:
| AREA | Cr. Hrs. |
| --- | --- |
| Core Courses | 57 |
| Elective Courses | 24 |
| Supporting Science Courses | 19 |
| General Education | 25 |
| Community Service | 00 |
| Project | 06 |
| Internship | 00 |
Core Courses (57 Cr. Hrs.)
| Course Title | Code | Cr. Hrs. |
| --- | --- | --- |
| Cell Biology Lab | BS1111 | 1 |
| Cell Biology | BS1113 | 3 |
| Biochemistry Lab | BS2221 | 1 |
| Biochemistry | BS2223 | 3 |
| Introduction to Microbiology Lab | BS1141 | 1 |
| Introduction to Microbiology | BS1143 | 3 |
| Protein Chemistry | BS3513 | 3 |
| Molecular Genetics Lab | BS2421 | 1 |
| Molecular Genetics | BS2423 | 3 |
| Introduction to Bioinformatics Lab | BS2711 | 1 |
| Introduction to Bioinformatics | BS2713 | 3 |
| Bio-ethics and Bio-safety | BS3823 | 3 |
| Animal and Plant Physiology | BS2153 | 3 |
| Introduction to Biotechnology | BS3813 | 3 |
| Functional Genomics | BS4523 | 3 |
| Introduction to Immunology Lab | BS1151 | 1 |
| Introduction to Immunology | BS1153 | 3 |
| Agriculture Biotechnology | BT3853 | 3 |
| Industrial Biotechnology | BT3733 | 3 |
| Health Biotechnology | BT3843 | 3 |
| Genetics Engineering | BT4453 | 3 |
| Environmental Biotechnology | BT4873 | 3 |
| Microbial Biotechnology | BT3373 | 3 |
Elective Courses (24 Cr. Hrs.)
| Course Title | Code | Cr. Hrs. |
| --- | --- | --- |
| Nano Biotechnology | BS4793 | 3 |
| Bioprocess Engineering | BS3833 | 3 |
| Tissue and Cell Culture | BS3713 | 3 |
| Food Biotechnology | BS4853 | 3 |
| Enzymology | BS 3533 | 3 |
| Principles of Breeding | BS4723 | 3 |
| Microarray Data Analysis | BS4743 | 3 |
| Microbial Genetics | BS3453 | 3 |
| Synthetic Biology | BS4783 | 3 |
| Mitochondrial Genetics | BS4443 | 3 |
| Pharmacogenomics | BS3463 | 3 |
| Virology | MB3333 | 3 |
| Pharmaceutical Biotechnology | BS4843 | 3 |
| Bioremediation | BS3543 | 3 |
| Water and Waste Water Material | BS3523 | 3 |
| Marine Biotechnology | BS3823 | 3 |
| Biofuel and Biorefinary | BS3553 | 3 |
| Fungal Biotechnology | BS3743 | 3 |
| Biomaterials | BS4883 | 3 |
| Comparative Anatomy | BS3163 | 3 |
| Biodiversity and Conservation | BS2173 | 3 |
| Biosystematics and Classifications | BS3193 | 3 |
| Endocrinology | BS3183 | 3 |
| General Ecology | BS1123 | 3 |
| Evolutionary Biology | BS3173 | 3 |
| Developmental Biology | BS2163 | 3 |
| Medical Biology | BS3313 | 3 |
| Soil Biotechnology | BS4323 | 3 |
Supporting Science Courses (19 Cr. Hrs.)
| Course Title | Code | Cr. Hrs. |
| --- | --- | --- |
| Introduction to Programming Lab | CSBS1131 | 1 |
| Introduction to Programming | CSBS1133 | 3 |
| Chemistry | BS2213 | 3 |
| Basic Mathematics | MTBS1003 | 3 |
| Calculus I | MTBS1013 | 3 |
| Statistical Methods in Biology | MTBS2033 | 3 |
| Biophysics | BS2143 | 3 |
General Education (25 Cr. Hrs.)
| Course Title | Code | Cr. Hrs. |
| --- | --- | --- |
| Pakistan Studies | HMBS1002 | 2 |
| Islamic Studies and Ethics | HMBS1012 | 2 |
| English I | HMBS1013 | 3 |
| English II | HMBS1023 | 3 |
| Technical Report Writing | HMBS2033 | 3 |
| Humanities I | HMBS2xx3 | 3 |
| Humanities II | HMBS2xx3 | 3 |
| Management I | MGBS4xx3 | 3 |
| Management II | MGBS4xx3 | 3 |
Design Project (6 Cr. Hrs.)
| Course Title | Code | Cr. Hrs. |
| --- | --- | --- |
| Design Project I | BS4912 | 2 |
| Design Project II | BS4924 | 4 |
SCHEME OF STUDIES
Semester - 1
Semester - 2
Semester - 3
Semester - 4
Semester - 5
Semester - 6
Semester - 7
Course Code
Course Title
Lec. Hrs.
Lab. Hrs.
Cr. Hrs.
BS
4523
Bioethics and Biosafety
3
0
3
BS
4793
Elective – VI (Nano-Biotechnology)
3
0
3
BS
4443
Elective – VII (Mitochondrial Genetics)
3
0
3
MGBS
4xx3
Management – I
3
0
3
BS
4912
Project Part – I
0
6
2
Semester - 8
Course Code
Course Title
Lec. Hrs.
Lab. Hrs.
Cr. Hrs.
BS
4523
Functional Genomics
3
0
3
BS
3463
Elective – VIII (Pharmacogenomics)
3
0
3
MGBS
4xx3
Management – II
3
0
3
BI
4924
Project Part – II
0
12
4