What Careers Can You Pursue with a BS Computer Science Degree?
Posted by

Date

February 14, 2023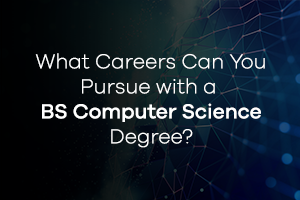 What is BS Computer Science?
BS computer science program is a course in which you study computer systems and computational processes. Professionals in the field of computer science create innovative algorithms and programming languages. 
Additionally, you will create computer hardware and maintain databases and software programs. As a student in a computer science degree program, you will receive training in both the theoretical and applied components of the field.  
Scope of BS Computer Science in Pakistan
One question that always comes to everyone's mind while considering a field is, "What is the scope of this field?" and "Am I making the ideal decision?" Does computer science have a scope? The response to the question that people ask is, of course, YES!  
Well, you cannot pick a better field than this one right now. Why? That is because it offers some of the best market prospects. However, this is not true for just Pakistan but also globally, as everything is becoming digital eventually.  
You can see that everything is moving online these days, from small businesses to large corporations. So, there will likely soon be more computers on the planet than people. This leads to a higher scope of BS computer science graduates and more job opportunities.  
8 Careers You Can Opt for with a BS Computer Science Degree
A career in computer science can provide fascinating opportunities. It also contributes to technological advances and discovers new methods for companies to use computers. Because most computer science professions require specialized technical abilities, they also provide good job security as well as very competitive income. 
If you wish to work in this industry, here are 8 careers that require a BS computer science degree: 
1. Web Developer
A web developer is a computer science specialist who builds websites and keeps track of their performance. So, as a web developer, you will: 
Write code that allows new websites to run.

 

Test old websites to assess their performance and speed.

 

Create applications to feature and utilize on new websites.

 
2. Software Engineer
A software engineer is an expert who creates new software and computer products, frequently following client specifications. So, you can work as a software engineer after getting a degree in computer science. So, in addition to inspecting and maintaining the software and hardware that a business utilizes, you will create new computer systems to support software advancements. 
3. Information Security Analyst
Information security analysts examine how an organization: 
Utilizes computer systems and networks to identify possible security gaps.

 

Install new software in a company's computer systems to boost protection.

 

Run tests to assess a system's current security measures.

 
You will create new cybersecurity standards as an information security analyst. Also, you will apply them within the organizations you represent. 
4. Systems Analyst
Your duties as a systems analyst include: 
Analyze an organization's current computer systems to measure their level of effectiveness

 

Engage with executives and managers to go over computer system usage objectives

 

Develop specifications for brand-new systems that they can put into place in an organization.

 
5. Database Administrator
With a BS computer science degree, you can work in the role of a database administrator. Your job will include adjusting databases to be more effective and secure. In addition, you will evaluate systems to ensure users can access any information they save in their computer systems. 
Also, you will be utilizing software tools to organize data into particular sets, review systems, and modify databases. Similarly, you will use software to assist in the merging of new databases with old databases. 
6. Network Architect
Another position you can pursue with a degree in the field of computer science is network architect. You will be:  
Attending meetings to discuss the network requirements of an organization.

 

Researching available network services and products to see if any new ones could be useful to their clients.

 

Testing out new systems to make sure they operate before adopting them within an organization.

 
7. Software Architect
A software architect is a computer science expert who creates new software solutions based on specifications from businesses and individuals. So, if you choose to be a software architect, you will: 
Monitor the development of innovative software products.

 

Ensure that any projects they perform by the rules and laws related to information systems.

 

Provide clients and team members with expert guidance regarding cutting-edge applications for the software.
8. Computer Scientist
A computer scientist studies computers and computer systems to assess how they work and explore new uses for technology in society. So, while working as a computer scientist, you will: 
Use your expertise in computers and how they operate.

 

You can construct new applications and programs that can enhance a computer's functionality.

 

Create effective methods for users to interact with technology.

 
Muhammad Ali Jinnah University for BS Computer Science Degree
MAJU offers the best BS computer science degree program in Karachi taught by the most competent faculty in town. The modern and fully equipped laboratories will provide you with the practical experience you need to excel in this field.  
So, secure a seat in our course and live your dream of working in technology.