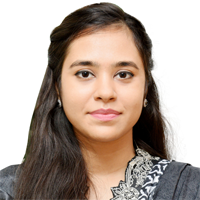 Ms. Rija Hasan (MS PAF-KIET, Karachi)
Lecturer
PROFILE SUMMARY
I have a passion for research opportunities in areas such as Informatics and Machine Learning. I enjoy teaching new topics and courses as I learn and often experiment various teaching tactics along the way. I never retreat from a challenge and I learn to grow into a better professional every day.
QUALIFICATION
MS Scholar
Electrical Engineering
MA Jinnah University, Karachi
Since – 2010
MS
Electronics Engineering
PAF KIET, Karachi
2017
BE
Electronics Engineering
PAF KIET, Karachi
2013
RESEARCH AREAS / INTERESTS
Informatics;
Computer Vision;
Machine Learning.
TEACHING INTERESTS
Signals and System;
Digital Signal Processing;
Fundamentals of Electronics;
Digital Logic Fundamentals;
Engineering Calculus – 1.