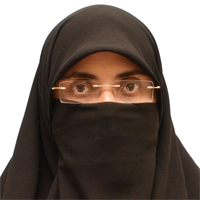 Ms. Maryum Firdous (MPhil Scholar UoK, Karachi)
LECTURER
PROFILE SUMMARY
Maryum Firdous is an Emotional Health Counselor, NLP Trained Professional, Trainer and Author. She is M.A. Gold Medalist (Clinical Psychology), M.Phil. Scholar (Psychology). She has served Army Public Schools and Colleges System as emotional health counselor and trainer for two years. She has been providing mental health support and parenting suuport for five years. She has published research article on Tertiary Academic Success. She has also authored a book on Parenting Practices. A number of publication projects are in the pipeline. She has presented research papers on Personality Theories, Mental Health, Academic Success, Life Goal Orientation, Self-efficacy, Strengths Use and Knowledge in several international conferences. She has been involved in collaborations with different organizations as freelance motivational trainer.
QUALIFICATION
M.Phil. Scholar
Psychology
University of Karachi, Pakistan
–
MA
Clinical Psychology
University of Karachi, Pakistan
–
RESEARCH AREAS / INTERESTS
Life Goal Orientation;
Motivation;
Academic Success;
Happiness and Well-being;
Parent-child relationship.
TEACHING INTERESTS
Research Methods;
Statistics for Psychology;
Positive Psychology;
Personality Theories;
Clinical Psychology
Social Psychology