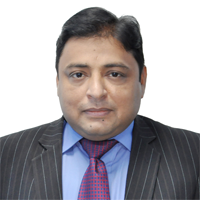 Mr. Muttahir Ahmed Khan (MS MAJU, Pakistan)
ASSISTANT PROFESSOR
PROFILE SUMMARY
Professionally speaking, Muttahir Ahmed Khan is a Pakistan-based Educationist, Writer, Journalist, Analyst, TV Host and a Psychotherapist. Born of Educationists parents, in Rahim Yar Khan, Pakistan, Muttahar (known as Muttahir) studied at Govt. Model High School Kasur, Government Forman Christian College (FC College), Lahore and the Punjab University, Lahore. Besides possessing an MS. (Management Sciences) & M.Phil. (Social Sciences-English) and Master's degrees in English Literature, International Relations and Education, he has professional diplomas and certificates in Computers, Business English, Business Communication and Teaching fields. In addition to it, he is a Certified Hypnotherapist by National Guild of Hypnotists, USA, advanced level Reki Healer, Kundalini Practitioner and a Mind Sciences Graduate from the Institute of Mind Sciences, Pakistan. Being a freelance journalist, he has been writing essays for last ten years for The News, Dawn, The Nation, Daily News, Pakistan Today, Pakistan Observer, Corporate Ambassador and Express Tribune on Education, Economy, Current Affairs, Literature, Art & Culture and Health & Psychology. As a greatly admired literary critic, he has penned down critical reviews on international films, plays and the books created by towering authors of different countries.
He has been rendering his services as a Teacher of English Literature and Language, a Guest Speaker, as a Teacher Trainer to public and private sector institutions of higher education, and as a Judge (for National-level English Declamation Contests and Essay Writing Competitions). He is Founding Member and Information Secretary of All Media Associates for Diplomatic Affairs (AMADA). He is also the Honorary Associate Editor "Corporate Ambassador", Executive Editor Pakistan Credible News Network (PCNN) and the Member of Board of Directors Thespianz Foundation and Theatres. He has hosted and participated in many Live Talk Shows on TV. Besides, he sits in the interview boards of different leading English newspapers, as a special member, for the induction of editorial and reporting staff.
"Let Us Play Funeral", "In the State of Ironies", "Destroyed, Not Defeated", "Geneses of Military Rule in Pakistan", "Water Bomb", "The Dilemma of Muslim Youth", "Pakistan and the War on Terror", "Learning the Art of Public Speaking" are some of his greatly cherished essays. Moreover, the cascade of his highly appreciated poems comprises "The Savage Nature", "A Pile of Dust", "The Goddess of Mirth" and "The Spring". Muttahir's Analysis and Critical Reviews have been significantly esteemed by the great writers like A. S. Muslim, Amjad Islam Amjad, Syed Zia Abbass, Iqbal Syed Hussain, Mudassar Bashir and S. M. Fazal. He also has to his credit the memorable Urdu short stories "Aathish", "Saat Samunder Paar Sey", "Aik Tha Sunny", "Cheeku" and "Aansa". He has also penned down many concepts and themes for TV and Theatre plays and documentaries. He has penned down valuable books like "The Lighthouse (essays on Education, Literature and Economy), "The Spectrum" (essays on Pakistan Affairs) and "An Exercise in Thought" (Jointly authored with Allamma A S Muslim- Sitara-e-Imtiaz) while the "Coffee with Muttahir" (A Collection of his Rendezvous with gigantic personalities) is also under process.
He has achieved Excellence Award (2014) for Best Columnist & Writer, Special Youth Award (2013) for Best Journalist and Corporate Ambassador Award (2012) for Best Social Writer and other shields and prizes for his distinctive contribution as an Essayist, Journalist, Speaker and Host.
. , ,
QUALIFICATION
MS
Management Sciences
Mohammad Ali Jinnah University, Karachi, Pakistan
2019
MA
International Relations
Karachi University, Pakistan
2010
RESEARCH AREAS / INTERESTS
Literature
Education
Social Issues
TEACHING INTERESTS
English Literature & t
Psychology
Sociology
Education
Pakistan Studies
History