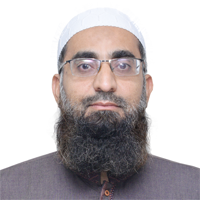 Mr. Momin Fayyaz (MPhil FUUAST, Pakistan)
Lecturer
PROFILE SUMMARY
Momin Fayyaz is a Permanent Lecturer at Muhammad Ali Jinnah University, Karachi. His educational qualification is Islamic Learning. He has been teaching Islamic Studies for ten years and Arabic Language for five years successfully in different Universities. Currently, he is working on his PhD thesis with Dr. Abdul Gafoor Baloch in the department of Quran and Sunnah, Federal Urdu University of Karachi. His mission is to carry on acquiring knowledge and imparting it to the people of the world.
QUALIFICATION
MPhil
Islamic Studies
Federal Urdu University of Arts Science & Technology
2015
MSc
Islamic Studies
University of Karachi
2012
RESEARCH AREAS / INTERESTS
Concept of Tax in Islam
TEACHING INTERESTS
Islamic studies;
Arabic as Foreign Language.