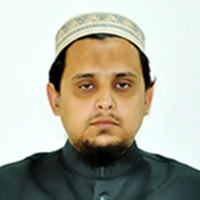 Dr. Syed Imran Jami
Professor
PROFILE SUMMARY
Dr. Syed Imran Jami received his B.S. in Computer Science from the University of Karachi in 2001, M.S. in Computer Science from Lahore University of Management Sciences in 2004 and Ph.D. in Computer Science from the National University of Computer & Emerging Sciences in 2011. He is one of the founding members of Center for Research in Ubiquitous Computing and associated with it since 2006. He also worked with Haptics Research Lab and Pervasive and Networked Systems Research Group at Deakin University, Australia. Till now Dr. Jami has authored 24 research papers in conferences and journals of international repute. He is also a member of several professional organizations including ACM, IAENG, SIAM etc. He worked as the Head of Computer Science Department at DHA Suffa University, Karachi. Before that, he had worked at University of Karachi, LUMS, Deakin University and FAST-NU under different capacities. Currently, he is working as Professor and Dean Academics at M. A. Jinnah University. His areas of research include provenance system, social and semantic computing, cloud computing, and software agents.
QUALIFICATION
PhD
Computer Science
FAST, Pakistan
2011
MS
Computer Science
LUMS, Pakistan
2004
BS
Computer Science
UOK, Pakistan
2004
RESEARCH AREAS / INTERESTS
Semantic Web;
Distributed Systems;
Provenance System;
Software Agents.
TEACHING INTERESTS
Computer Architecture;
Parallel & Distributed Computing;
Semantic Web;
Data Structures;
Introduction to Computer Science;
Software Agents;
Design and Analysis of Algorithms;
Advanced Operating Systems;
Advanced Architecture;
Advance Operating Systems.