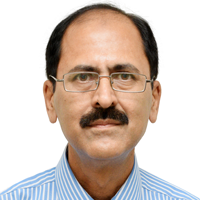 Dr. Khalid MN (ICCBS-UoK, Karachi)
Assistant Professor
PROFILE SUMMARY
Dr. Khalid (PhD) has 25 years of professional Academic, Research & Industrial working experience with GOVERNMENT & Private Universities and Multinational Organizations involved in research innovation and development. He received different Awards, Affiliations & produced worthy Research Publications. He worked in GC University as Assistant Professor & PU Campus Islamabad as (HoD) HEAD OF DEPARTMENT of BIOSCIENCES and ASSOCIATE PROFESSOR at DIHE. Research fellow in International center for chemical & biological sciences (UoK) & Research fellow in MAHQ Biological Research Centre (UoK).

His diverse research experience and maintaining a successful scientific publications record has helped to achieve his goals. He supervised several research students & different Research Projects. He also worked as Member of Board of Advanced Studies & Research (BASR), Office of Research Innovation and Commercialization (ORIC), Academic Council, QEC, member of Department Research Committee in different Universities. He presented different research papers and posters in many National and International Conferences. Also involved in applied research Projects, IT, Computer Software development, System Analysis, Food, Nutrition, Biology, Biotechnology, Bioinformatics, Molecular biology, Microbiology & Immunology, Environment, Mineral water Production, Water treatment, Lubricants, Fuels, Fertilizers, Textile, Chemicals, Total Quality Control & Production, Business Development Management and ISO expert.
QUALIFICATION
PhD
Biosciences
International center for chemical & biological sciences (ICCBS-UoK)
2010
MSc
Biosciences
University of Karachi
1992
BSc
Biosciences
University of Karachi
1989
TEACHING INTERESTS
Biology;
Organic chemistry;
Biotechnology;
Bioinformatics;
Biochemistry;
Environment;
Molecular biology;
Research methodology;
Microbiology;
Biodiversity;
Immunology;
Analytical techniques;
Genetics;
Agriculture;
Food & nutrition;
Computer & IT.