7 Key Advantages of Choosing MAJU for BS Degree Programs in 2023
Posted by

Date

December 29, 2022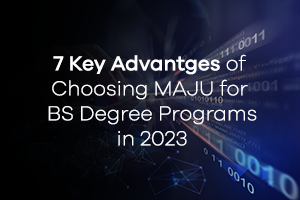 Muhammad Ali Jinnah University offers a wide range of BS degree programs. These courses include almost every field, from life sciences and engineering to technology. So, if you are looking for an institute for your bachelor's, then choose MAJU, as our spring admissions 2023 are now open.  
Well, you must be thinking why you should MAJU. Why not any other university? In this article, you will learn about all the reasons you should choose us for your bachelor's or post-graduate studies.  
Why Choose MAJU for BS Degree Programs?
There are multiple benefits to choosing MAJU for any of the BS degree programs. Let's see it in detail.  
1. Wide Range of BS Degree Programs of MAJU
There are a total of five faculties that offer a variety of bachelor's and master's courses. Let's look into the details.  
1. Faculty of Engineering
The faculty of Engineering offers BS degree programs in engineering, including electrical engineering and computer engineering. In addition, this department also offers Masters and PhD programs in the field of engineering.  
2. Faculty of Computing
If you want to study the world of technology, then the faculty of computing is your go-to department. We offer BS degree programs in computer science and software engineering, along with master's and PhD courses.  
3. Faculty of Business Administration
This faculty provides students with the following BS degree programs options: 
BS Accounting and Finance

 

Bachelor of Business Administration

 

BS Management Sciences

 
In addition, you can also take admission to post-graduate courses and pursue a career in the corporate world.  
4. Faculty of Basic and Social Sciences
This faculty offers programs in the social sciences, so if you want to study BS Economics, BS Psychology, or MS Economics and Finance, then choose MAJU right now as our spring admissions 2023 are open.  
5. Faculty of Life Sciences
If you want to pursue a career in the life sciences, then MAJU is the right choice. We offer BS degree programs in biotechnology, biosciences, and bioinformatics. So, you can choose us and start your journey toward fulfilling your dreams.  
2. Purpose-Built Campus
The university campus has been designed to facilitate the students and faculty so that they have a smooth and peaceful educational journey. For that, every educational resource and facility has been made available for you. From air-conditioned classrooms to auditoriums and labs, you will find everything according to your requirements.  
3. Experienced Faculty
Whether they are BS degree programs or graduate programs, they are taught by the best faculty. We take pride in having experienced and professional teachers who will guide you throughout your journey at MAJU. They have years of experience in the field and will prepare you so that you stand out in the competitive market.  
4. HEC-Based Curriculum
Whichever one of the BS degree programs you choose to study, they all follow HEC guidelines. So, you will not have any difficulty when you start your job hunt, and you have been prepared accordingly. So, what are you waiting for? Grab the opportunity and enrol at MAJU as our spring admissions 2023 are open.  
5. Advanced Labs and Library
The campus has modern laboratories with the latest equipment for you. so, whether you choose science BS degree programs to study or computing courses, you will have access to these labs. So, you can benefit from this and put your theoretical knowledge into practice. Similarly, the campus has a fully stocked library where you can find all the educational help from textbooks, reference books, etc.  
6. Societies and Clubs
We believe in providing you with a well-balanced campus life. So, to make that happen we ensure you engage in healthy extracurricular activities. As a result, you will not get exhausted by a hectic academic routine but also have a chance to explore your hidden talents and skills.  
So, there are different societies and clubs that you can join. These include: 
MAJU Engineering Society

 

Business Administration Society

 

Personality and Character Development Society

 

Mental Health Club

 

Plan It Society

 

Performing Arts Society

 

MAJU Sports Society 
7. Scholarships 
Another benefit of studying at MAJU is you get scholarships and incentives. If you cannot afford to pay for your education, you can apply for a need-based scholarship and get a fee concession. Similarly, there are scholarships that you can avail of. Here goes the list: 
Merit-Based Scholarships

 

Financial Aid, Contingency, and Disabled Scholarships

 

PGC Scholarships

 

Siblings Scholarships

 

MAJU Alumni Scholarships

 

Faculty Members and Staff Scholarships

 
So, now you do have to worry about paying your fee as you can apply for the scholarship of your requirement and start living your dream.  
Get Admission to BS Degree Programs at MAJU Now!
So, we have described all the benefits you will get by taking admission to MAJU. This is one the best decisions you will make. So, do not waste a second and apply right now as our spring admissions 2023 are now open.  
For more information, contact us at info@jinnah-admissions23.azurewebsites.net.