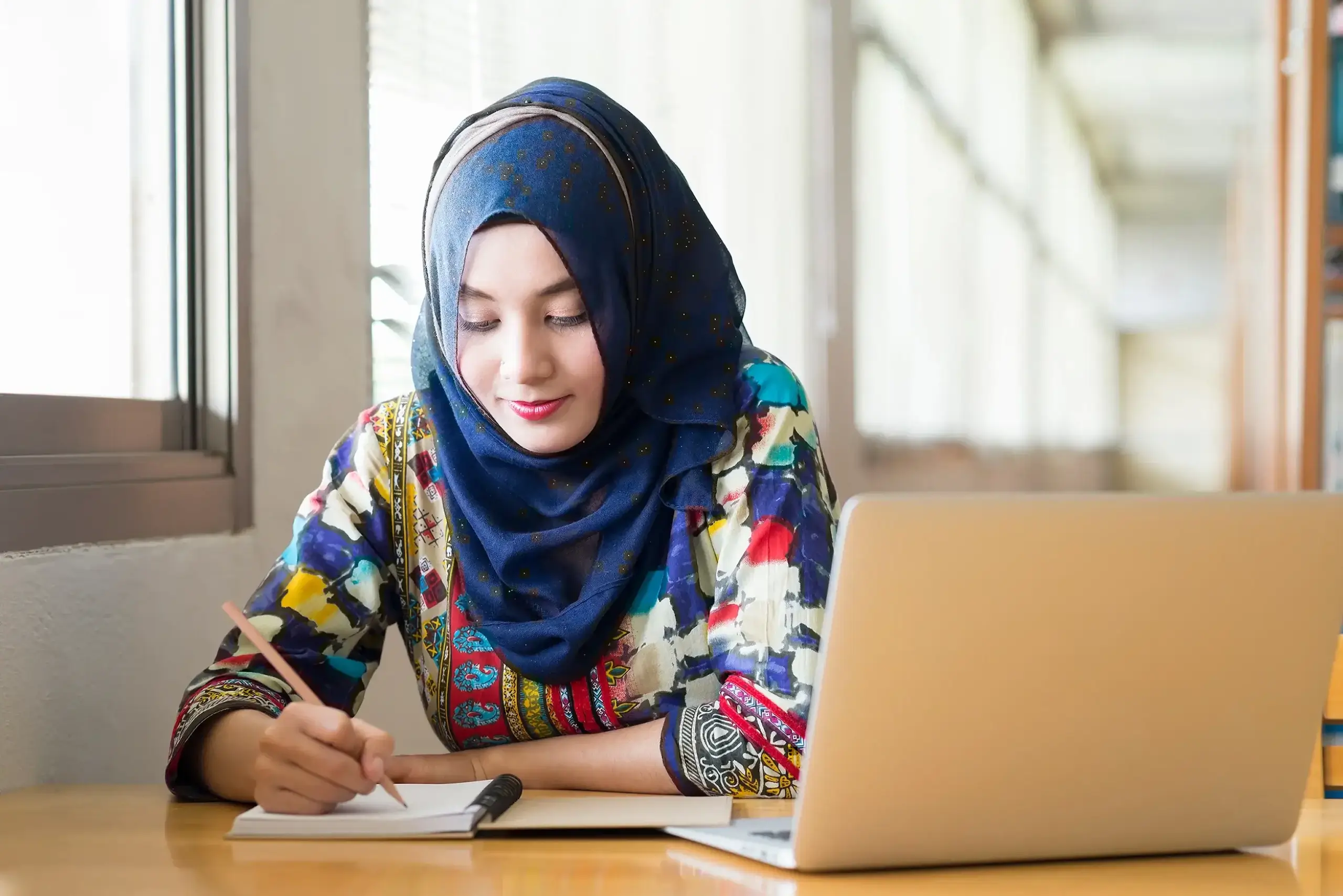 BS (Psychology)
BS PSYCHOLOGY at MAJU follows the guidelines of HEC, consisting of a quality four-year program for better industry acceptance. We aim to fulfil all the fundamental needs to build a strong base for the future psychologist in Pakistan.
Our BS in Psychology strives to generate leaders in industry or academia by demonstrating their knowledge and skills—psychology carters the technical, human and managerial skills to benefit individuals and society.
Human intellect is as complex as human emotions are. Psychology is all about reading the psyche- Life and Logos- explanation. The course fulfils the duties in the field and industry requirements to deal with the nerve-breaking challenges that a psychologist may face working.
At MAJU, the BS- Psychology is an in-depth academic course, covering subject fundamentals and offering three advanced variations to choose from for their students.
The deviations are available after the successful completion of the base course with further choices in clinical psychology, industrial psychology and education psychology. Furthermore, the faculty of psychology consists of a well-blended combination of industry expertise and the latest knowledge with a knack for research.
Psychologists work in hospitals and clinics. They work as counsellors or therapists in schools and universities. Or in the areas of marriage, religion, crime, and other disciplines.
Clinical Psychology
The specialisation in clinical psychology will empower our students in Clinical Psychology, Psychophysiology, Neuro Sciences, and child and adult counselling.
In the long term, this will empower our students to understand and resolve the complex human problems that affect society. Undertaking clinical psychology as an academic discipline will enable our students to help individuals improvise their mental health. We teach students by applying practical techniques.
Cognitive behavioural therapy (CBT), cognitive analytic therapy (CAT), psychodynamic therapy, dialectical behavioural therapy (DBT) and acceptance and commitment therapy (ACT) are some of such techniques.
A Bachelor's with a specialisation in Clinical Psychology will serve as a pre-requisite for a master's in the same, fulfilling the requirement of becoming a Clinical Psychologist in Pakistan.
Industrial Psychology
With the industrial revolution, the significance of industry arises to a recognisable extent. Moreover, the advancement of technology increased the complexity of human relations, efficiency and effectiveness.
Hence, MAJU has opened the gateway to the most important branch of psychology, focusing on industry and organisation and its associations.
You will learn human resource management, consumer behaviour, leadership and counselling in this specialisation option. With this study plan, a student can join multiple industries and organisations in Pakistan. It could be any one of Banking, Telecom, IT or Education sector.
Education Psychology
As the name suggests, education psychology links with education and training. The main focus is the behaviour, cognitive approach, and social and emotional processes. This branch of Psychology addresses the teaching and training method to increase and enhance the positive outcomes and efficiency of training methods.
The learning disorders like Attention Deficit Hyperactivity Disorder (ADHD) and dyslexia are the focus of solutions in education psychology.
You can go for a school counsellor job, or you may also use these skills to enhance your teaching methods if you choose academia.
Program Educational Objectives (PEOs)
| | |
| --- | --- |
| PEO-1 | Be leaders in industry or academia by demonstrating their knowledge and technical, managerial and human skills for the benefit of individual society's built and natural environments. |
| PEO-2 | Exhibit quest for learning and initiative by continuously broadening their abilities and enhancing their human and technical skills to maintain their relevance with technological/theoretical/therapeutic change. |
| PEO-3 | Demonstrate commitment to ethical practices, community service and societal contribution. |
Program Learning Outcomes (PLOs)
| | | |
| --- | --- | --- |
| PLO-1 | Psychological Knowledge | Apply knowledge of Psychological fundamentals and a psychological specialization to the solution of complex psychological problems. |
| PLO-2 | Problem Analysis: | Identify, formulate, research literature and analyze complex psychological problems reaching substantiated conclusion using principles of psychology. |
| PLO-3 | Formulate/Development of Solutions: | Design/research/apply therapeutic solutions for complex human, social, educational and industrial problems, components or processes that meet specified need with appropriate consideration for public health and safety, cultural, societal and environmental consideration. |
| PLO-4 | Investigation | Investigate complex psychological problems in a methodical way including literature survey, design and conduct of qualitative and quantitative analysis. |
| PLO-5 | Modern Tool/therapy/solution Usage | Create, select and apply appropriate techniques, resources and modern psychological and social science tools with an understanding of the limitations. |
| PLO-6 | Psycholgy and Society | Apply reasoning information by contextual knowledge to assess societal, health, safety, legal and cultural issues and the consequent responsibilities relevant to professional psychological practice and demonstrate knowledge of and need for sustainable development. |
| PLO-7 | Environment and Sustainability: | Understand the impact of professional psychological solutions in individual, societal and environmental contexts and demonstrate knowledge of and for sustainable development. |
| PLO-8 | Ethics: | Apply ethical principles and commit to professional ethics and responsibilities and norms of psychological practice. |
| PLO-9 | Entrepreneurial and Professional Skills: | Work effectively, as an individual or in a team, on multifaceted and/or multidisciplinary settings. |
| PLO-10 | Individual and Team Work: | Ability to transfer learned knowledge of psychology in novel contexts and diverse situations. |
| PLO-11 | Communication | Communicate effectively, orally as well in writing, on complex psychological practices with the national and international psychological community and with society at large, such as being able to comprehend and write effective report and design documentation, make effective presentations, and give and receive clear instructions. |
| PLO-12 | Project Management/individual case management | Demonstrate management skills and apply psychological principles to one's own work, as a member and/or leader in a team, to manage projects/human/educational issues in a multidisciplinary environment |
| PLO-13 | Lifelong Learning | Recognize importance of, and pursue lifelong learning in broader context of innovation, therapeutic, solution based issues in education/clinical/industrial developments. |
Admission Requirements
Higher Secondary School Certificate or Equivalent securing at least 45% marks in aggregate, as per HEC requirement.
MAJU Admissions Test, Past Academic Performance and Interview
Degree Requirements
| | |
| --- | --- |
| Area | Cr. Hrs. |
| Compulsory Requirement | 30 |
| General Courses to be chosen from other departments | 21 |
| Discipline Specific Foundation Courses | 34 |
| Major Courses including Research Project / Internship | 27 |
| Electives | 22 |
Compulsory Requirement (30 Cr. Hrs.)
| Course Title | Code | Cr. Hrs. |
| --- | --- | --- |
| Freshman English | SS1100 | 3 |
| Computer Concepts and Application | MG1500 | 3 |
| Pakistan Studies | SS2420 | 2 |
| English Grammar | SS1110 | 3 |
| Islamic Studies/Ethics | SS2400 | 2 |
| Oral Communication Skills | SS2120 | 3 |
| Business Statistics | MT1510 | 3 |
| Educational Psychology | PH2220 | 3 |
| Technical Report Writing | SS3130 | 3 |
| Foreign Language | SS1200 | 3 |
General Requirements (21 Cr. Hrs.)
| Course Title | Code | Cr. Hrs. |
| --- | --- | --- |
| Microeconomics | EC1000 | 3 |
| Management Elective 1 | MG1XX0 | 3 |
| Business Mathematics | MT1500 | 3 |
| Management Elective 2 | MG3XX0 | 3 |
| Management Elective 3 | MG2XX0 | 3 |
| Computer Science Elective 1 | CS3XX0 | 3 |
| Neurological Basis of Behavior | PH3220 | 3 |
Discipline Specific Foundation Courses (34 Cr. Hrs.)
| Course Title | Code | Cr. Hrs. |
| --- | --- | --- |
| History and Schools of Psychology | PH1110 | 3 |
| Principle of Psychology | PH1120 | 3 |
| Human Interaction and Ethical Practices | PH1140 | 3 |
| Social Psychology | PH1130 | 3 |
| Abnormal Psychology | PH2210 | 3 |
| Experimental Psychology | PH2510 | 3 |
| Health Psychology | PH2220 | 3 |
| Psychological Research Methods | PH2610 | 3 |
| Psychology Practicum | PH2520 | 2 |
| Personality Theories | PH2110 | 3 |
| Cognitive Psychology | PH3120 | 3 |
| Introduction to Clinical Psychology | PH3240 | 2 |
Major Courses (27 Cr. Hrs.)
| Course Title | Code | Cr. Hrs. |
| --- | --- | --- |
| Mental Health and Psycho-pathology – I | PH3210 | 3 |
| Psychological Testing – I | PH3510 | 3 |
| Mental Health and Psycho-pathology – II | PH3230 | 3 |
| Quantitative Research Tools | PH3620 | 3 |
| Final Research Project 1 | PH4530 | 3 |
| Testing lab | PH4520 | 3 |
| Final Research Project 2 | PH4530 | 3 |
| Testing lab | PH4540 | 3 |
Elective Courses (22 Cr. Hrs.)
Computer Science Elective
| Course Title | Code | Cr. Hrs. |
| --- | --- | --- |
| CS Elective II | CSXXX0 | 3 |
1. Clinical Psychology
| Course Title | Code | Cr. Hrs. |
| --- | --- | --- |
| Psychophysiology | PH4210 | 3 |
| Clinical Psychology | PH4220 | 3 |
| Counseling and therapy | PH4230 | 3 |
| Pharmacology and Neurosciences | PH4240 | 3 |
| Clinical Psychology -II | PH4250 | 3 |
| Child counseling | PH4260 | 3 |
2. Industrial Psychology
| Course Title | Code | Cr. Hrs. |
| --- | --- | --- |
| Organizational Psychology | PH4310 | 3 |
| Consumer Behaviour | PH4320 | 3 |
| Human Resource Management | PH4330 | 3 |
| Organizational Psychology II | PH4340 | 3 |
| Psychology of Leadership | PH4350 | 3 |
| Group Dynamic/counseling | PH4360 | 3 |
3. Educational Psychology
| Course Title | Code | Cr. Hrs. |
| --- | --- | --- |
| Educational Psychology | PH4410 | 3 |
| Behaviour Modification | PH4420 | 3 |
| Counseling | PH4430 | 3 |
| Educational Psychology II | PH4440 | 3 |
| School management | PH4450 | 3 |
| Children with special needs | PH4460 | 3 |
Semester - 1
Course Code
Course Title
Lec. Hrs
Lab. Hrs
Cr. Hrs.
SS
1100
Freshman English
3
0
3
MG
1500
Computer concepts and applications
2
1
3
EC
1000
Microeconomics
3
0
3
SS
2420
Pakistan Studies
3
0
3
PH
1110
History and Schools of Psychology
3
0
3
PH
1120
Principle of Psychology
3
0
3
Semester - 2
Course Code
Course Title
Lec. Hrs
Lab. Hrs
Cr. Hrs.
SS
1110
English Grammer
3
0
3
SS
2400
Islamic Studies / Ethics
2
0
2
PH
1140
Human interaction and ethical practices
3
0
3
MG
1XX0
Management Elective 1
3
0
3
MT
1500
Business Mathematics
3
0
3
PH
1130
Social Psychology
3
0
3
Semester - 3
Course Code
Course Title
Lec. Hrs
Lab. Hrs
Cr. Hrs.
SS
2120
Oral Communication Skills
3
0
3
SS
2xx0
Social Science Elective 1
3
0
3
MG
3XX0
Management Elective 2
3
0
3
PH
2210
Abnormal Psychology
3
0
3
PH
2510
Experimental Psychology
2
1
3
MT
1510
Business Statistics
3
0
3
Semester - 4
Course Code
Course Title
Lec. Hrs
Lab. Hrs
Cr. Hrs.
MG
2xx0
Management Elective 3
3
0
3
CS
3xx0
Computer Science Elective 1
3
0
3
PH
2220
Health Psychology
3
0
3
PHB
2410
Educational Psychology
3
0
3
PH
2610
Psychological research methods
3
0
3
PH
2520
Psychology Practicum
1
0
1
Semester - 5
Course Code
Course Title
Lec. Hrs
Lab. Hrs
Cr. Hrs.
PH
3210
Mental Health and Psycho-pathology – I
3
0
3
PH
3220
Neurological Basis of Behavior
3
0
3
PH
3510
Psychological Testing – I
3
0
3
CS
3XX0
CS Elective 2
3
0
3
PH
2110
Personality Theories
3
0
3
PH
3120
Cognitive Psychology
3
0
3
Semester - 6
Course Code
Course Title
Lec. Hrs
Lab. Hrs
Cr. Hrs.
PH
3230
Mental Health and Psycho-pathology – II
3
0
3
PH
3240
Introduction to Clinical Psychology
3
0
3
PH
3520
Psychological Testing – II
3
0
3
PH
3130
Technical Report Writing
3
0
3
PH
3620
Quantitative Research Tools
3
0
3
SS
1200
Foreign Language
3
0
3
Semester - 7
Course Code
Course Title
Lec. Hrs
Lab. Hrs
Cr. Hrs.
PH
4530
Final Research Project 1
3
0
3
PH
4520
Testing lab
1
2
3
PH
XXXX
Elective I
3
0
3
PH
XXXX
Elective II
3
0
3
PH
XXXX
Elective III
3
0
3
Semester - 8
Course Code
Course Title
Lec. Hrs
Lab. Hrs
Cr. Hrs.
PH
4530
Final Research Project 2
3
0
3
PH
4540
Testing lab
1
2
3
PH
XXXX
Elective – IV
3
0
3
PH
XXXX
Elective – V
3
0
3
PH
XXXX
Elective – VI
3
0
3