MS Economics & Finance
The finance and management sectors are always in need of well-trained and highly-qualified graduates. Our MS Economics And Finance is a modern program that will help you gain the ability to apply advanced microeconomics, macroeconomics, and monetary economics to private and public sectors vis-a-vis contemporary issues in the finance and banking sectors.
The course will help you gain advanced quantitative and theoretical skills that are highly sought after in the public and private sectors. The curriculum will further let you critically examine a range of economic theories, actions, and policies of governments and exchange markets.
In addition to strong theoretical, qualitative, and analytical foundations, Jinnah University provides you the opportunity to refine your practical skill set through the thesis. By doing these under the supervision of highly-qualified teachers, you can garner practical skills by applying your learning of economics and finance.
Career Prospects
A degree in MS Economics and Finance will unlock the following career options for you:
Financial Analyst
Banker
Wealth Manager
Stockbroker
Accountant
International Trade Specialist
Political risk analyst
Consultant
Read more
Admission Requirements
Sixteen years of schooling or four-year of relevant education after intermediate with minimum 50% marks or minimum CGPA 2.0/4.0.
MAJU Admission Test or HEC Approved Test

"What drew me to the university was the foreign qualified faculty. My professors at Mohammad Ali Jinnah University were invested in my growth. I got my first job as soon as I graduated."
Saba Nasir
MS Computer Science '21, Associate Data Engineer at Afiniti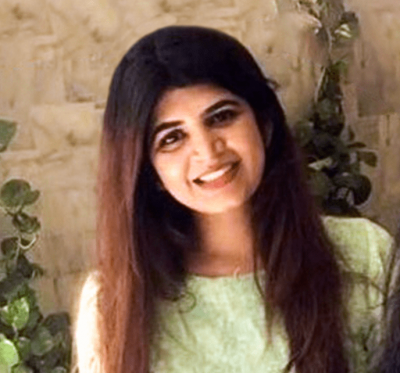 Degree Requirements
| | |
| --- | --- |
| Area | Cr. Hrs. |
| Core Courses | 12 |
| Elective Courses- Economics | 06 |
| Elective Courses-Finance | 06 |
| Thesis/ Elective Courses | 06 |
Core Courses
| | |
| --- | --- |
| Course Title | Cr. Hrs. |
| Advanced Microeconomics | 3 |
| Advanced Research Methods | 3 |
| Theory and Practice of Finance | 3 |
| Advanced Macroeconomics | 3 |
Elective Courses
Economics
| | |
| --- | --- |
| Course Title | Cr. Hrs. |
| Advanced Econometrics | 3 |
| Advanced Mathematical Economics | 3 |
| Issues in Pakistan Economy | 3 |
| Advanced Development Economics | 3 |
| Advanced Monetary Economics | 3 |
| Islamic Finance | 3 |
| Labor Economics | 3 |
| Public Finance | 3 |
Finance
| | |
| --- | --- |
| Course Title | Cr. Hrs. |
| International Finance | 3 |
| Advanced Portfolio Management | 3 |
| Contemporary Issues in Banking and Finance | 3 |
| Financial Econometrics | 3 |
| Advanced Financial Derivatives | 3 |
Deficiency Courses
| | |
| --- | --- |
| Course Title | Cr. Hrs. |
| Introduction to Business Finance | 3 |
| Basic Econometrics | 3 |
| Business Economics | 3 |
Research Thesis (Only for thesis students)
| | |
| --- | --- |
| Course Title | Cr. Hrs. |
| Thesis Phase-I | 3 |
| Thesis Phase-II | 3 |
SCHEME OF STUDIES
Semester - 1
| | |
| --- | --- |
| Course Title | Cr. Hrs. |
| Advance Microeconomics | 3 |
| Advanced Research Methods | 3 |
| Theory and Practice of Finance | 3 |
Semester - 2
| | |
| --- | --- |
| Course Title | Cr. Hrs. |
| Advanced Macroeconomics | 3 |
| Elective I (Economics) | 3 |
| Elective I (Finance) | 3 |
Semester - 3
| | |
| --- | --- |
| Course Title | Cr. Hrs. |
| Thesis (Phase I) | 3 |
| Elective II (Economics) | 3 |
| Elective-II (Finance) | 3 |
Semester - 4
| | |
| --- | --- |
| Course Title | Cr. Hrs. |
| Thesis (Phase II) | 3 |